Tampa's restaurant scene is burgeoning with extraordinary restaurants opening by the day.
So many dining options have come along with this rapid growth, including many options for vegetarians meals in Tampa. As more people around the country turn to meatless options for health or ethical reasons, more restaurants are catering to this growing demographic. Luckily for those that live in or visit Tampa, there are many wonderful vegetarian dining options available. 
From traditional meals that are pared back to remove meat, to unique and creative herbivore-friendly dishes, anyone can find a satisfying, meat-free delicacy in Tampa. Here are some local favorite restaurants in Tampa with vegetarian options you'll find delicious!
Lunch Menu: Black Bean Burger
On Swann in Hyde Park Village is a chic and elegant must-experience for diners of all types. Many restaurants have added black bean or veggie burgers to their menus, but as most vegetarians know, the quality of these meatless burgers is often lacking. Not at On Swann. Their Black Bean Burger is done perfectly and has roasted corn hummus, avocado, and harissa aioli. With just the right amount of fries as a side, this vegetarian option is delicious and filling.

Beyond Tacos
Datz has long been known for having the renowned Beyond Burger as their staple vegetarian dish. Now Datz has taken the same delicious Beyond Burger meat and made it into a taco experience unlike any other. Topped with pico de gallo, power slaw, and Cotija cheese, these corn tortilla Beyond Tacos will make you wonder why anyone put meat in a taco in the first place. One of the best vegetarian meals in Tampa Bay!
California Cuban
Any meatless eaters who have been to Southern California know it's the vegan capital of the world, so it makes sense that Farmacy's Cuban sandwich is California inspired. Served with vegan Swiss cheese on sourdough, it's a great choice for downtown workers who want a quick and clean lunch.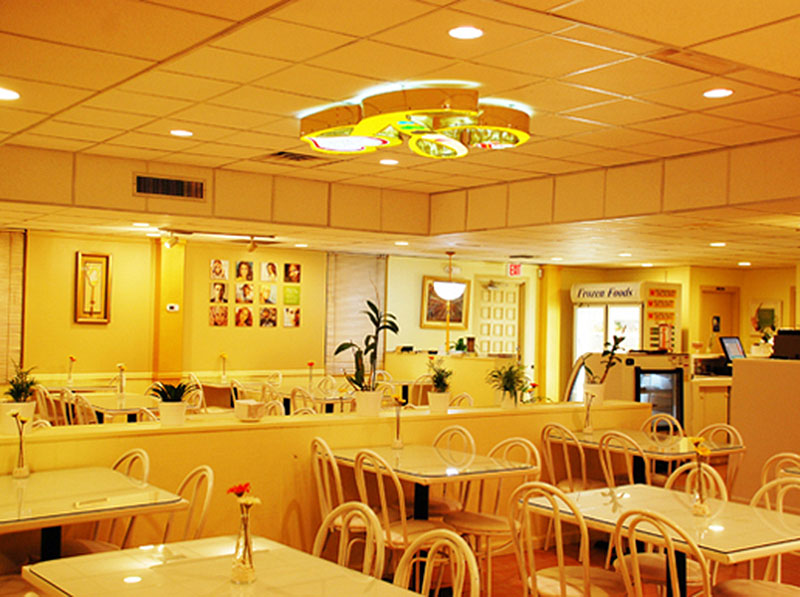 Spicy Wings
Loving Hut has one of Tampa's most extensive vegan menus. Right up near the top of that menu at #3 is the Spicy Wings appetizer. Made from vegan chik'n, these wings are a great hit for any meal.
Flower Power Empamama
Armature Works is an architectural jewel on the Hillsborough River and the food inside emulates the grandeur of the building from which it's served. After entering into the dynamic atmosphere of Armature Works, head over to Empamamas for their Flower Power Empamama.
The roasted cauliflower is cooked perfectly, and the vegan buffalo garlic aioli makes the dish.
Vegetarian Chili
Oxford Exchange has turned into one of the go-to places for Tampa power players to have meetups with clients and other professionals.
Keeping those power players returning are the great breakfast, lunch, and brunch options available. Try the Vegetarian Chili for lunch to start. With a sweet potato and bean base along with spicy avocado mash, this dish is a great start to a meal that can include other vegetarian and vegan options, such as the veggie melt.
Paella Vegetariana
Since 1905, the family-owned Columbia Restaurant has been feeding generations of Tampa families for all kinds of events and occasions. Meatless aficionados must try the Paella Vegetarian, full of fresh vegetables that are properly seasoned and cooked, this dish can easily feed more than one person.
Three Sisters Stuffed Portobello
Ulele, one of the Gonzmart Family of Restaurant's crown jewels, is located just down the street from Armature Works and has been adding more vegetarian and vegan options to their menu. Try the Three Sisters Stuffed Portobello dish.
With an oven roasted and marinated Portobello cap stuffed with fresh vegetables and Manchego cheese, you won't leave the restaurant hungry.
And this is just a sampling of what's available. There are plenty of great vegetarian restaurants in Tampa, but these meals at some of your Tampa favorites are also a great way to stay true to your diet, beliefs... and a delicious dinner!
For more information on local restaurants in Tampa check out 813area, your free guide to your favorite city!
Cover photo from Unsplash, all other photos from 813area and Wikimedia Commons.
Comments