If you're dressing up for Halloween this year, you want to make sure that your costume is the coolest, funniest or scariest out of all your friends! Maybe you have a young family and you want to dress up as the Incredibles? Or you and your man have Pam and Jim costumes from The Office? What about fun costumes with your friends, like the cast of Scooby Doo or That's 70's Show? For all the trendiest ideas in 2018, keep reading and click the image if you see something you want to purchase! 

If you're the Neil Patrick Harris of your neighborhood and your family is known for their Halloween coordination we've got some trendy suggestions for those of you who don't have your costumes yet. Whether you're a Gryffindor or a Slytherin, Potterheads, get ready because there's a character for you to channel this Halloween. Dress up as a crime fighting family like the Incredibles or a funny quirky family like the one in Bob's Burgers and you'll be a shoe-in to win the costume contest at any of the family friendly Halloween events happening in Tampa. For the families that go hard for Halloween, here are some impressive collaborations you have to scroll through!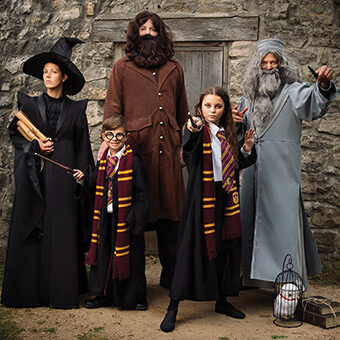 Wingardium leviosa! Whether your representing your family as Hermione Granger, a master Quidditch player, a Gryffindor student, or Harry Potter himself, you'll want to freshen up on your spells. Hop on your firebolt and catch the golden snitch for victory!

| | |
| --- | --- |
| | |

Grab your aprons and hungry bellies because this costume comes with burgers! Become a member of the Belcher Family with this Tina, Bob, Linda, Louis and Gene costume. And if you want to sing like Linda, all the power to you. Who's a fun Mom on Halloween? She looks really spooky and she looks really young! It's Linda Belcher! 

| | |
| --- | --- |
| | |
| | |

If you believe that it's time to make some wrong things right then help bring Supers back into the spotlight and dress up as the Incredibles this Halloween. Super Moms and Super Dads get ready to strap on your supersuits and encourage your kids to become Dash and Violet so you can dress to impress. These Incredibles costumes, like Mr. Incredible in the movie, need a friend. If you're best friend wants to dress up with your family, buy them the Frozone Supersuit! *nagging wife not included* 

| | |
| --- | --- |
| | |
| | |

If you and your friends want to dress up together, our suggestions are all the rage! Like science and humor equally? Grab your portal guns and dress up as the cast of Rick and Morty! Gamers, I already know what your plans are: Fortnite Skin Costumes! If you haven't seen Stranger Things then you must live under a rock. This group of brave kids proves to be the perfect costume, even if you want to throw it together last minute! Musically inclined and have a lot of extra cardboard around the house? Be kanye West and Lil Pump form their new music video, "I Love It". Whatever you decide, make sure its trending!
Get Riggity Riggity Wrecked this Halloween and adventure around town in your Rick and Morty Costumes! Plan on bouncing from party to party? Then bring your portal gun and look out for Scary Terry. Remember to check the snack tables at these parties or events for the Szechuan Sauce too! 

| | |
| --- | --- |
| | |
Fortnite has taken over the world of gaming in 2018, so it's bound to be one of this year's trendiest halloween costumes. Dropping into Tilted Towers? You're going to need to collect loot fast! Carry a bottle of blue Gatorade around the party or event and tell people it's shield potion. If you're dressing up as a Season 6 skin, bring your dog in your backpack to party with your furry friend this Halloween. 

| | |
| --- | --- |
| | |
| | |
| | |
Don't find yourself being suck into the Upside Down this Halloween! Put on your pink dress, blond wig and box of Eggo Waffles to become Season 1 Eleven or put on curly wig and trucker hat to call yourself Dustin! Whomever your favorite character is, these are some fun Stranger Things costumes you can purchase this Halloween. 

| | |
| --- | --- |
| | |
| | |
Kanye West and Lil Pump
Grab some extra cardboard from your local superstore and make yourself a boxy figure to dance around in like Kanye and Lil Pump did in their newest music video "I Love it". All you'll need it a large pair of brown sweatpants,a large brown tee and some large chains to complete this costume. If you're looking for shoes that compare to Kanye's borrow your Dad's, boyfriend's or older brother's slides and rock 'em like you just don't care! Don't worry the political views don't come with the costume! Here's a video on how to build the boxes correctly: 

If you and your man are looking to get a good laugh when you show up to the party, here are some power couples to try. Riverdale is one of the most popular shows on TV right now, and Jughead and Betty are the perfect duo to become this Halloween. Not only are the best friends but they're partners in crime too! Daenerys and John Snow are one of TV's hottest couples, with these spot on costumes everyone will know who you two have become for Halloween. If you're looking for power couples, The Office cast has you covered! There's the always coveted Jim and Pam or the quirky Angela and Dwight. If you feel like a boss you could be Michael Scott and Jan or Holly!
Some spooky things are happening in Riverdale. If you and your bae watch the show together you can put on your Vixen costume and he can grab a Southside Serpent leather jacket for a fun and trendy costume this Halloween. 

| | |
| --- | --- |
Winter is coming! Bring HBO's hottest couple to life this Halloween for a night filled with secrets, drama and mystery. With these Daenerys and John Snow costumes you'll be a shoe-in for winning the costume contest at your Halloween party or event. 

If you love The Office cast as much as I do then these accessories will come in Handy! With plenty of power couples in the show you can't go wrong! This is an easy costume for Halloween at work or for a Halloween party right after work. All you will need to do is put on your Pam or Jim name tag, grab your dundie and head out the door! 
For more costume ideas and Halloween events to attend wearing your amazing costumes check out 813area! 
MyArea Network is a participant in the Amazon Services LLC Associates Program, an affiliate advertising program designed to provide a means for sites to earn advertising fees by advertising and linking to Amazon.com.
Comments